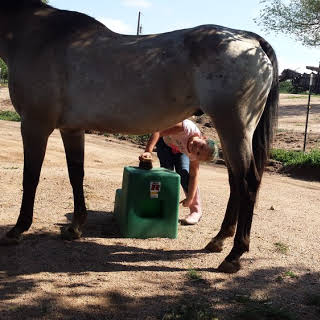 At Tamarack Boarding Ranch, we welcome horses of all breeds, with the intent of giving them the very best accommodations while they're with us. We've become a destination for horse owners throughout the area and a recognized horse ranch in Fountain, CO when it comes to boarding horses as pets, competition horses, rodeo horses and for recreational use.
Boarding
We offer partial-, full- and self-care options for your horse, making sure it gets everything it needs to be comfortable, happy and well-cared-for.
For partial-care plans, just tell us what you want us to be responsible for and we'll write up an agreement that's right for your needs. When it comes to full-service care, Tamarack does it all! From food, cleaning, blankets on the horse to water, manure cleanup and more, our complete attention is fixed on your horse's daily needs.
Additional Services
Our ranch is equipped with all of the facilities your horse needs to live happily and healthily, set on a sprawling campus that's rich with space. We offer:
Stables

Our stables are mucked and cleaned every day, ensuring your horse always has the cleanest possible conditions. This not only ensures your horse's health, but also its morale and mood.

Ranch

Spanning 46 acres of land, our ranch is a destination for horse owners who want to make sure their animal has tons of space to roam and ride.

Veterinary clinic

We have a vet that visits our ranch twice a year, administering care to horses with reduced facilities fees in Fountain, CO. Stop on by with your horse for exams, vaccines, and other treatment.

Horseback riding

We have access to a county-maintained trail right on the property! The trail is 20 miles long and runs as far as Colorado Springs, CO, with plenty of scenic vistas along the way.

Round Pen

Need a safe space where you can train your horse? We have a 60' enclosed space that's ideal for training horses.

Arena

Looking to graduate your horse to a larger space for training? Our 100' x 200' arena has plenty of space for horses to run and all of the accommodations you need to train.
Want more information about our accommodations or rates for boarding your horse? Contact Tamarack Boarding Ranch today by calling 719-200-4959.