Horse Boarding Stable in Fountain, Colorado
Tamarack Ranch is a family owned and operated, horse boarding facility, serving families in the Fountain, CO area. Our caring staff and beautiful setting will provide a fine home for your horse. Contact us today!
Our ranch is set on 38 spacious acres, so your horse won't be confined to a small run or stall.
We have a 100ft by 200ft arena and a 60ft round pen for training. We're also close to the Fountain Riding and Roping Club arena.
Twice a year, we host a veterinary clinic where the horses can get health exams, vaccines, and other procedures at a reduced cost.
Resident Trainers, Training Clinics and Riding Lessons available.
Approximately 38 families board here, which provides lots of opportunity to ride and socialize with other horse lovers.
Tamarack Ranch is a self care and recreational facility which allows you more opportunity to maintain a close bond with your horse and give it the personal care and attention your want it to have, plus regular association with other horse lovers like yourself.
Horse Boarding & Recreation Facilities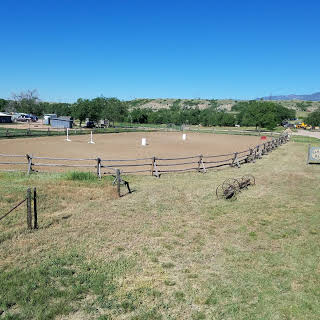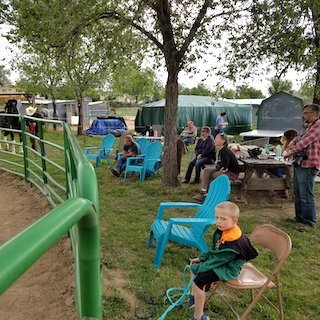 The property was originally operated as a dairy farm in the early 1900s. The Simmons family bought the property in 1950 and began raising cattle while growing alfalfa, corn, and cane. In 1998 the horse boarding operation was started by Dwayne and Gretchen Simmons and later named Tamarack Ranch. The 4th generation of the Simmons family is now living on our ranch. From our 38 acres of  scenic landscape, to our regularly cleaned and maintained corrals and stables in Fountain, Colorado, you'll find everything your horse needs to live happy and healthy life.
Use our 60ft round pen for training and learning, then move up to our larger 100ft x 200ft arena for many equine activities. Just looking to enjoy some leisure time with your horse and friends? You'll enjoy socializing and riding with all the other horse enthusiasts here on the ranch. Roam the entire ranch and the more than 20 miles of trails just waiting to be explored.
Board Your Horse
Looking for a place your horse can have space to roam and live in a beautiful, healthy environment? Board with Tamarack Boarding Ranch today and make sure it gets the absolute best accommodations.
Call or visit us today and see our facilities for yourself.
Proudly offering horse boarding and horse stables to: